The following is a transcript from Labor Network for Sustainability staffer Sydney Ghazarian's opening remarks during the August 17, 2023 United Auto Workers (UAW) Solidarity Call.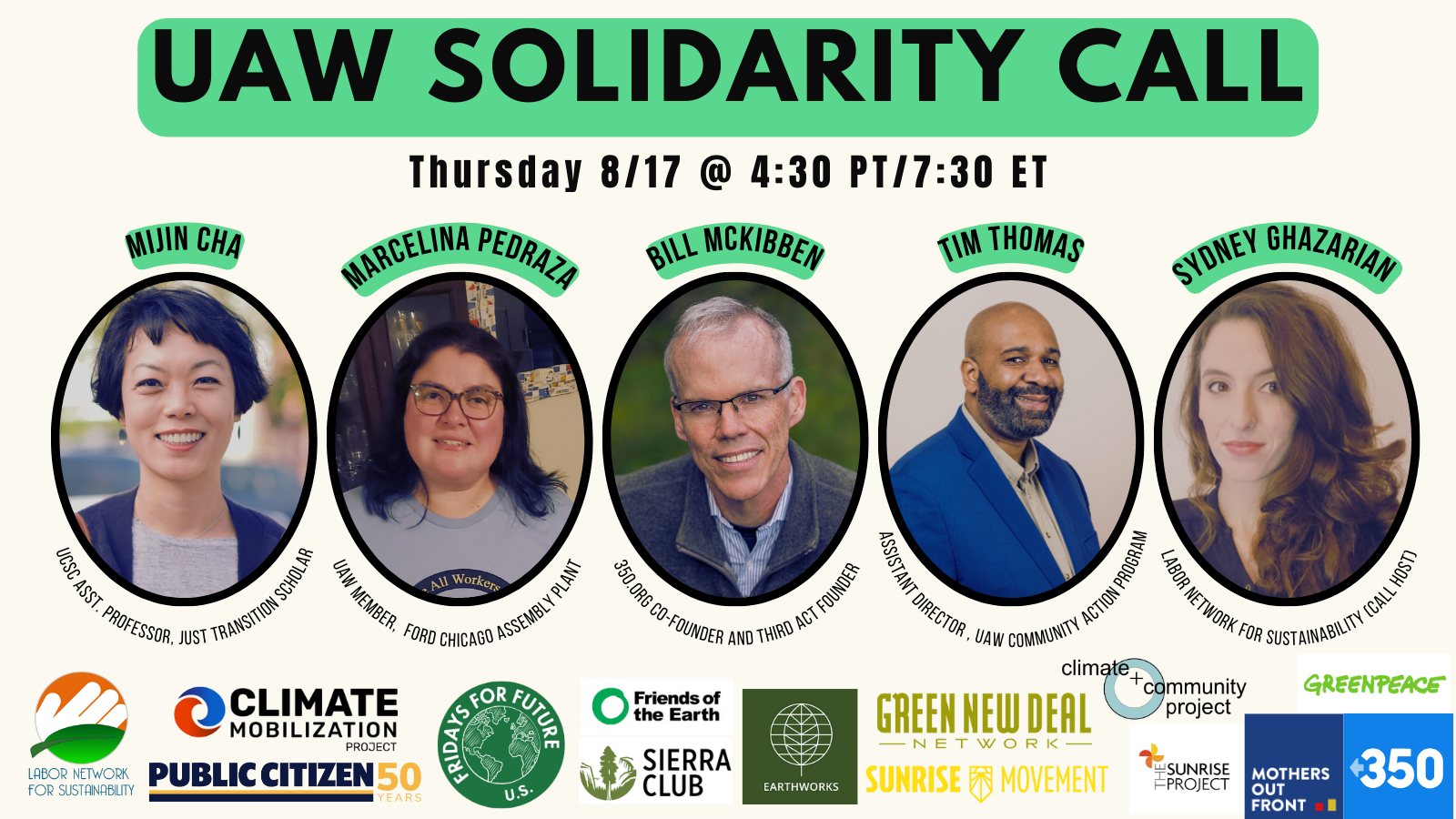 Welcome everyone! My name is Sydney, I am an organizer with the Labor Network for Sustainability, and I am honored to facilitate tonight's Solidarity Call for United Auto Workers Union, which is currently bargaining for a fair contract with the Big 3 Automakers- Ford, General Motors, and Stellantis. 
What makes tonight's call so special is that it's a solidarity call by and for the climate movement because we recognize that UAW's fight is our fight too.
What I love about the climate movement is that we are fighters. And our fight has spanned decades and across generations, and for the last several years, hundreds and thousands of us have rallied, door knocked, made calls, and done sit ins and direct actions to fight for a Green New Deal– which is a society-wide mobilization and just transition to decarbonize the economy while repairing historic harm and creating millions of high-paying, union jobs.
And I want to be clear: Without us fighting for a Green New Deal, there would be no Inflation Reduction Act and its historic investments in clean energy. But we also know that the IRA is not a Green New Deal, and falls desperately short of the Green New Deal's vision of the world we are trying to build. Rather than massive investments in the public sector, frontline communities, and good, green, union jobs that uplift working people, the IRA invests primarily in private corporations– often the same ones responsible for perpetuating the climate crisis in the first place. 
Unlike the IRA, the Green New Deal understands that the implementation of climate policy, and how resources are distributed to achieve it, are key to ensuring climate justice and ensuring that millions of people are equipped to take that leap of faith away from fossil fuels and into a green economy. 
That's where the climate movement's fight and UAW's fight join together. The Biden Administration has poured billions of dollars into US-based electric vehicle (EV) manufacturing, putting the auto industry at the forefront of the transition to a green economy. And while Big 3 Auto CEOs are raking in billions from taxpayer funded EV subsidies, auto workers are being hung out to dry. The closure of combustion-engine plants has cost thousands of workers their jobs, and devastated towns that economically depend on the wages provided by the plants. The flood of EV funding is whisking away the legacy of a strong union presence in Midwestern auto plants to new, non-union EV facilities– often in right-to-work states that make unionization harder. The 'green jobs' these new facilities bring are generally non-union, unsafe, and can pay as little as half of what their counterparts in traditional auto manufacturing plants make. 
Forgive me, but that's bullshit. Forcing workers to decide between good jobs and green jobs is a false choice. We know that because we have poured our sweat and tears into fighting for more. The Big Three are exploiting the clean energy transition to abandon workers, close plants, and erode safe, union jobs so they can pay near poverty wages and increase their bottom line.
The truth is that the clean energy transition, led by auto executives, is putting the Green New Deal's vision in jeopardy— but UAW is fighting back through their contract negotiations with Big 3 Auto. Despite the hardship the clean energy transition has put on their members, UAW has embraced the clean energy transition– and they are fighting to make it a just transition.
UAW's contract fight for good benefits, a just transition, union EV jobs with equal pay for equal work, and a clean energy transition that benefits workers and communities is the climate movement's fight as well. 
On Monday, we released an open letter with climate organizations calling on the Big 3 Auto industry to meet UAW's demands- Over 50 climate and social justice organizations have signed on so far. And I am so proud and excited to see all of this support, because this a make or break moment for ensuring the clean energy transition is a just transition, and we need all hands on deck– tonight, in the next few weeks, and until we win a fair contract.
Make sure your voice is heard: call 318-300-1249 and leave a voicemail for the Big 3 CEOs, in solidarity with auto workers