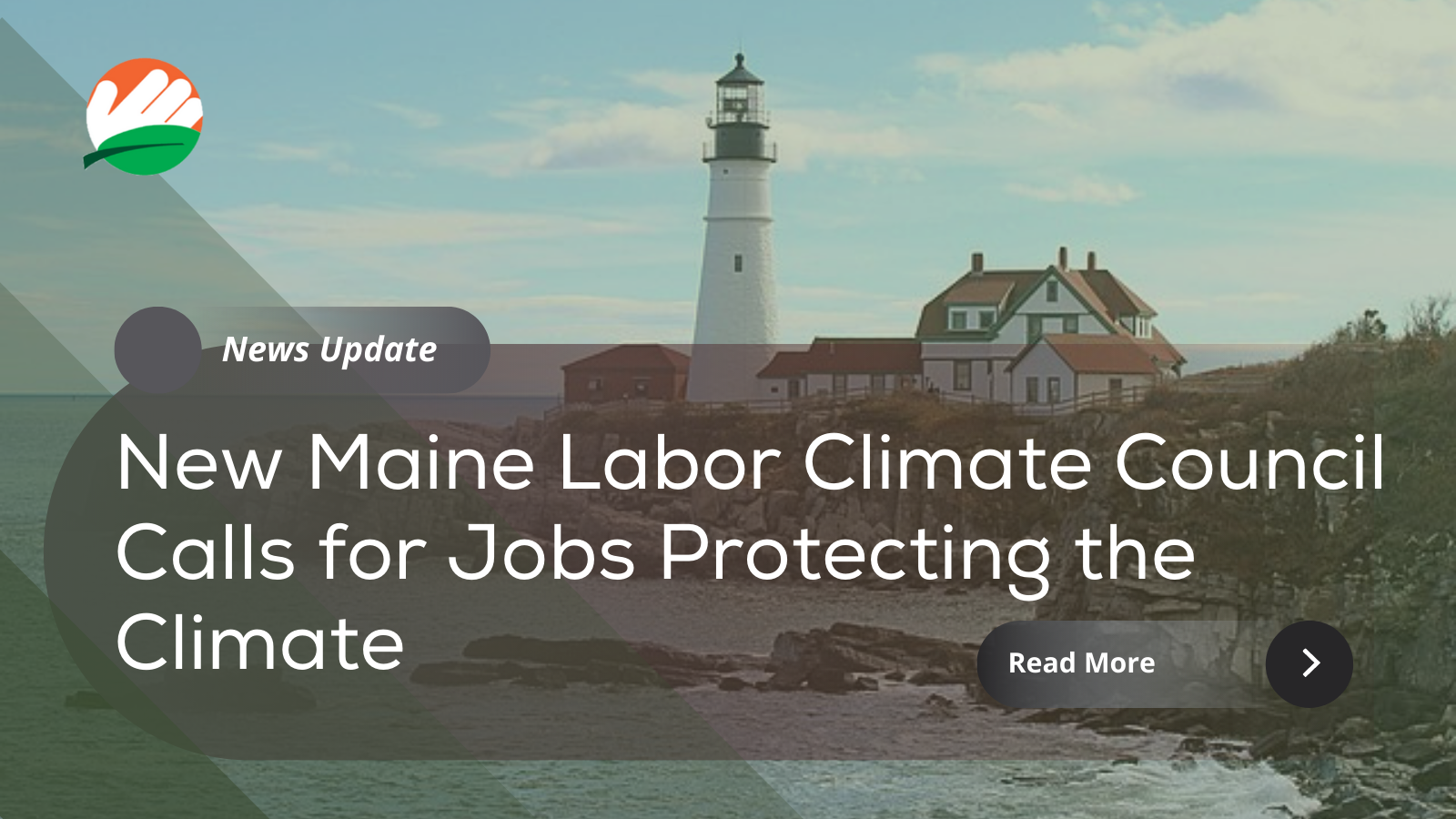 A dozen Maine unions launched a new coalition this March to push for pro-labor environmental initiatives. The coalition, called the Maine Labor Climate Council, includes:
Amalgamated Transit Union Local 714
International Brotherhood of Electrical Workers Local 490, 567, 1253, 2327 and 104
International Association of Bridge, Structural, Ornament & Reinforcing Iron Workers Local 7
International Union of Operating Engineers Local 4
International Union of Painters and Allied Trades, District Council 35
North Atlantic States Regional Council of Carpenters, Locals 349 and 352
Laborers' International Union Local 327
Maine AFL-CIO
Maine Education Association
Maine State Building and Construction Trades Council
Maine Service Employees Association SEIU 1989
Southern Maine Labor Council
According to Maine AFL-CIO President Cynthia Phinney, "The twin crises of climate change and inequality demand bold and urgent action."
We believe that the choice between good jobs and a livable planet is a false one, and our report lays out a path to head in the direction of both. The Maine Labor Climate Council is committed to tackling inequality and climate change together and being laser focused on creating good jobs as we develop Maine's clean energy economy.
The Council issued a "Maine Climate Jobs Report" which recommends that the state:
Install 25,000 Public EV Charging Stations by 2030
Transition 50% of Maine's School Bus Fleet to Zero-Emission Electric Vehicles by 2025 and 100% by 2030
Double and Electrify City Bus Operations by 2030
Construct High-Speed Rail to Bangor, Maine
Retrofit and Install Solar on All K-12 Public Schools by 2035
Net-Zero Emissions for New Construction by 2030
Retrofit 50% of Residential Units by 2040
Build 19,000 Affordable Units by 2040
Provide 100% Renewable Electricity By 2035
Plan and Fund a Just Transition
Ensure High-Quality, Union Jobs in Maine
Read more: