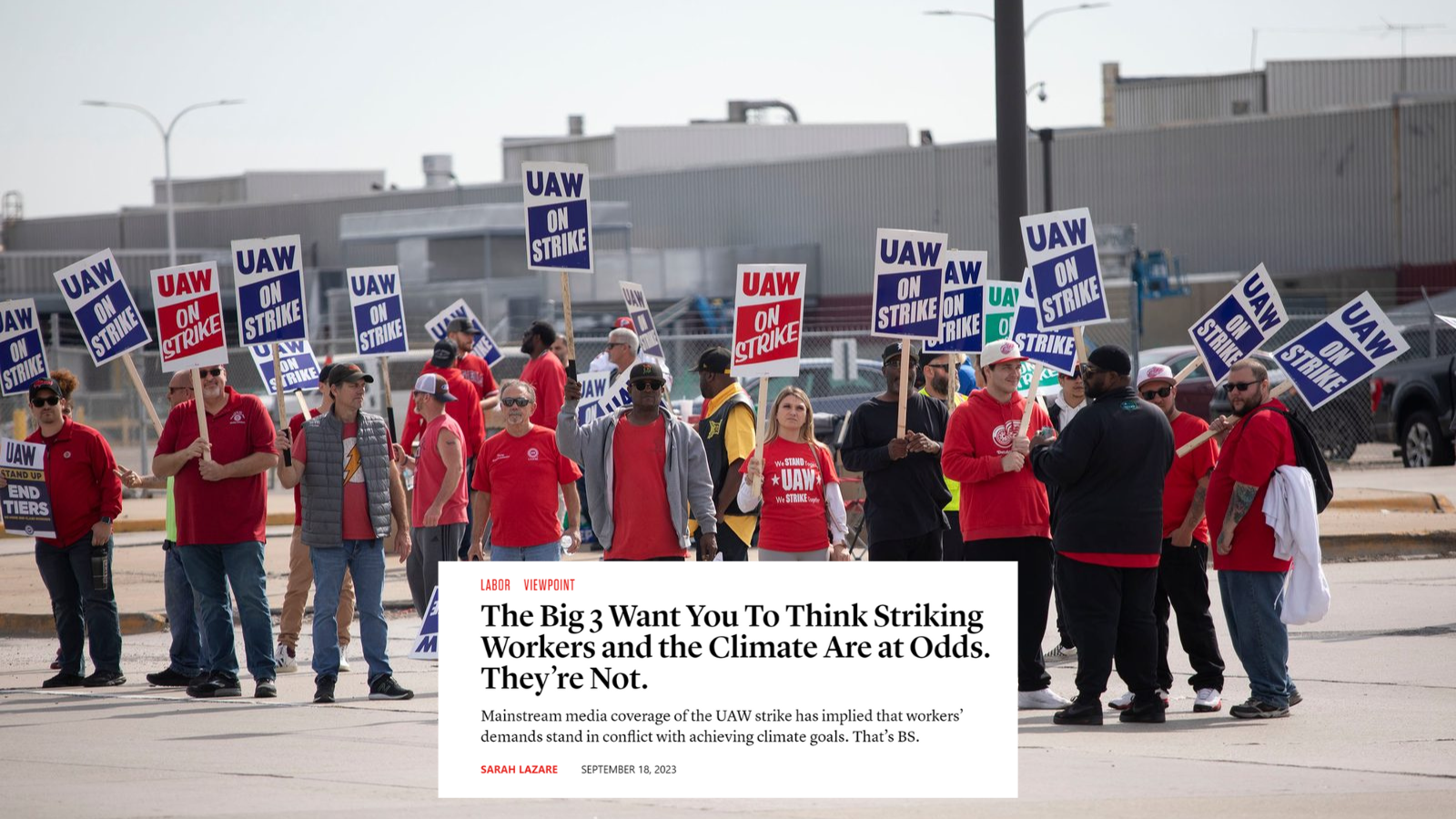 A recent article in In These Times by journalist Sarah Lazare says, "Mainstream media coverage of the UAW strike has implied that workers' demands stand in conflict with achieving climate goals. That's BS."
The article is titled, "The Big 3 Want You To Think Striking Workers and the Climate Are at Odds. They're Not." It quotes several LNS staff members and friends to make its point:
Sydney Ghazarian, LNS organizer who helped get more than 100 environmental and other organizations to support the auto workers strike, told Lazare,
Personally, I have no patience for the industry framing that workers are somehow responsible for slowing down the transition to EVs. 
 It wasn't auto workers who suppressed global warming research beginning in the 1960s while also lobbying against climate protections, ​It wasn't auto workers who made the decision to produce gas-guzzling vehicles, or to locate pollutive plants in working class communities of color. Those decisions were made by auto industry bosses like Mary Barra, Jim Farley, and Carlos Tavares (the CEOs of General Motors, Ford, and Stellantis, respectively) whose primary motive was ensuring they could pocket millions and millions of dollars a year, at any moral, societal or planetary cost.
 Mijin Cha, an assistant professor of environmental studies at the University of California-Santa Cruz and co-author of the LNS report "Workers and Communities in Transition," told Lazare,
The Big Three all currently have union contracts. They are making record profits while also having a union workforce. It's unclear to me why the EV sector can't also make profits while paying workers well. We must reject the idea that the only way to transition to a low-carbon or carbon-free future is by exploiting workers.
Joshua Dedmond, co-director LNS, said,
For the transition off fossil fuels to succeed, it's imperative that it is a just transition that can convince millions of people to take the leap of faith into the new green economy. 
For more on the UAW strike, check out this Citations Needed podcast interview with Sydney Ghazarian exposing Republican-Corporate-Media effort to divide climate advocates and auto workers.