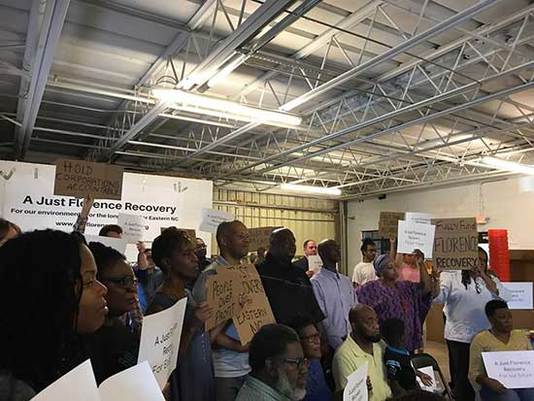 Black Workers for Justice penned an inspired piece calling for action, optimisim and change in the upcoming election in the aftermath of Hurricane Florence. Full text below.
By Black Workers for Justice
"These are not natural disasters, they are the logical outcome of a society that believes some people and some places are expendable. They are the product of a broken political and economic system–an industrial growth society that has given rise to climate chaos and unspeakable suffering." (NC Climate Justice Collective)
As we struggle to put our lives back together please consider these reflections:
The winds and rain of Hurricane Florence and then the floods have devastated our communities. We have had to leave our homes, many of which have been destroyed, as we suffer all of the pain of being displaced. Many are without food, water, necessary medications, and clothing. We have loss cherished family memories. But we have not loss our dignity.
Hog waste
As predicted by community and environmental justice organizations, numerous hog waste lagoons have been breached spreading toxic waste across our communities. Environmental racism is responsible for the harm the Pork Industry has done eastern North Carolina Communities. Smithfield Foods must be held accountable for their failure to guarantee safe waste systems on the farms that they contract with. And we must come to the aid of the community members and activist who have long been defending the community against this harm.
Coal ash
The N.C. communities that had been endangered by Duke Energy dumping its coal ash warned against the dangers of these 50 poison ponds. The flood waters after Florence have resulted in two of these pits leaking arsenic, mercury, lead and more into the Neuse and Cape Fear Rivers. Duke Energy said we are safe. We don't believe them.
There is no dispute that global warming is responsible for the nature and frequency of these recent hurricanes. The continued burning of coal will only worsen these conditions. Energy corporations like Duke and their backers in government must be stopped if we are to avoid continuous disasters. We cannot lose sight of this as we struggle to survive.
Elections
The elected officials in office now bear responsibility for these problems. As survivors and activists we have to hold them accountable.The massive displacement and necessary preoccupation with recovery will be used by the Legislature to further suppress the votes of people of color and poor people. We have to demand special measures for people to vote wherever they are.
Recovery policy by the state must not only include assistance with housing, cleanup, etc. but also must address the demands to end hog waste and coal ash crimes against the people.
Join the fight for a Just (as in justice) Florence Recovery!
Black Workers for Justice
blackworkersforjustice.com | [email protected]