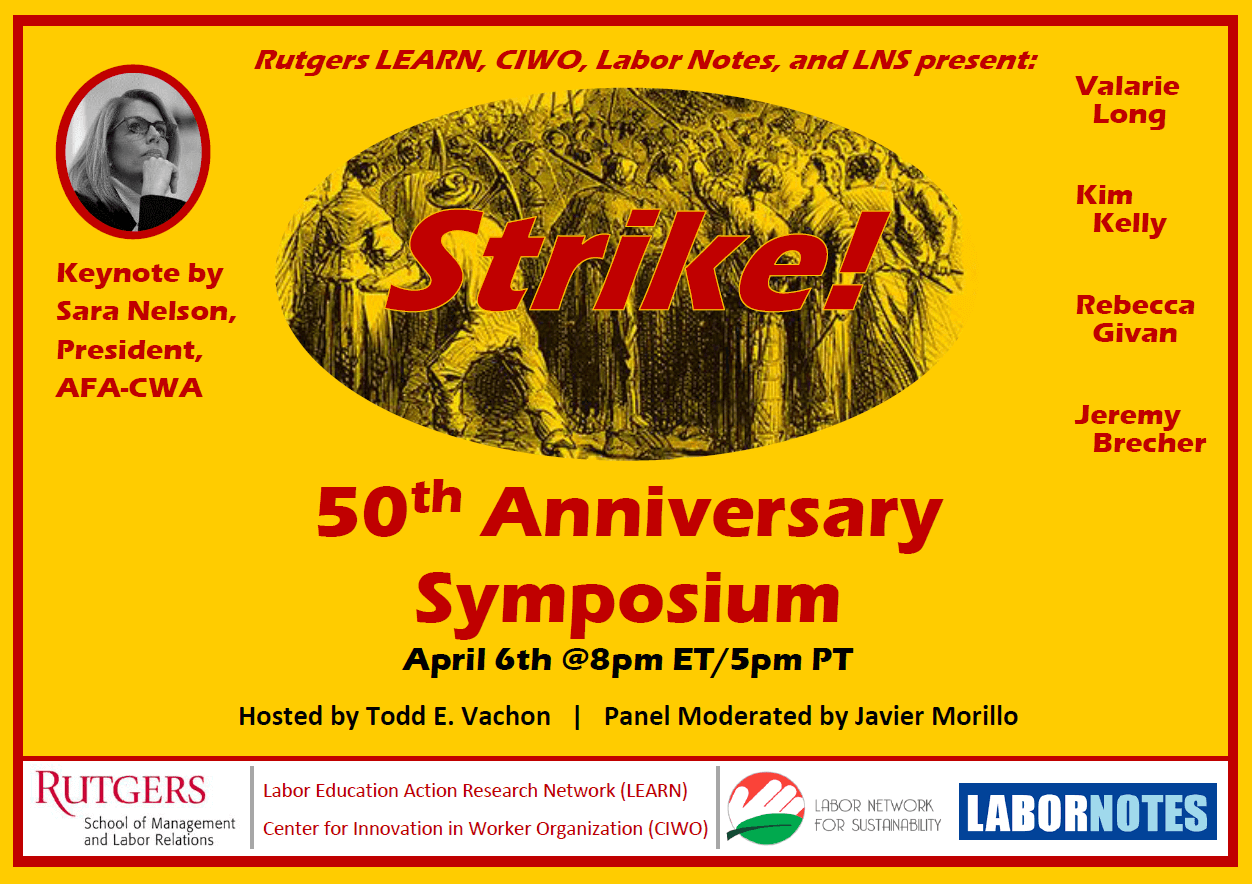 Online Panel Discussion, April 6, 2021, 8 p.m. Eastern
Rutgers LEARN, the Center for Innovation in Worker Organization (CIWO) – Rutgers School of Management and Labor Relations, Labor Notes, and the Labor Network for Sustainability present: Strike! A 50th Anniversary Symposium
Since its original publication in 1972, no book has done as much as Jeremy Brecher's Strike! to bring U.S. labor history to a wide audience. Strike! tells the dramatic story of repeated, massive, and sometimes violent revolts by ordinary working people in America. Told from the point of view of rank-and-file workers Involved in nationwide general strikes, the seizure of vast industrial establishments, and nonviolent direct action on a massive scale, Strike! reveals a dimension of American history rarely found in the usual high school or college history course. Fifty years later, the book still captures the imaginations of students, workers, and organizers alike, who continue to struggle for progressive social change to improve the lives of working people.
To consider the legacy of Strike!, including lessons for the current political-economic moment, we are joined in conversation by a panel of respected labor leaders, scholars, and journalists, including an opening keynote by Sara Nelson, International President of the Association of Flight Attendants-CWA.
The updated 50th Anniversary Edition of Strike! can be purchased directly from PM Press.
OPENING KEYNOTE
Sara Nelson, International President, AFA-CWA
PANELISTS
Valarie Long, International Executive Vice President, SEIU
Kim Kelly, Freelance Writer and Organizer
Rebecca Givan, Associate Professor of Labor Studies, Rutgers SMLR
Jeremy Brecher, Policy Director, Labor Network for Sustainability, and author of Strike!
Submit YOUR QUESTIONS for the Panelists here.
PANEL MODERATOR
Javier Morillo, Fellow, Center for Innovation in Worker Organization
EVENT HOST
Todd E. Vachon, Faculty Coordinator, Rutgers LEARN
BIOS OF PARTICIPANTS
Sara Nelson has served as the International President of the Association of Flight Attendants-CWA, since 2014. She first became a union member in 1996 when she was hired as a Flight Attendant at United Airlines and today she represents nearly 50,000 of aviation's first responders at 17 airlines. The New York Times called her "America's most powerful flight attendant" for her role in helping to end the 35-day Government Shutdown and InStyle Magazine placed her on the 2019 "Top 50 Badass Women" list.
When COVID-19 decimated the airline industry in 2020, Sara worked closely with Congress to secure the Payroll Support Program (PSP) that keeps aviation workers employed and connected to healthcare during the coronavirus pandemic while banning stock buybacks and capping executive compensation through September 30, 2021. Sara has also been a leading voice encouraging women to "Join Unions, Run Unions." Her work has been featured in several popular news outlets, including CBS Sunday Morning, The Nation, The New Republic, Cosmopolitan, Salon, and PBS Newshour.
Valarie Long is International Executive Vice President of the Service Employees International Union, leading SEIU's member engagement and leadership development work. She brings more than 30 years of organizing and leadership experience to the role – from organizing her own worksite, to being one of the pioneers of the Justice for Janitors campaign model, through which a largely Latino, immigrant, and subcontracted workforce was able to win better wages, benefits, working conditions, and full-time hours. Long understands the importance of working people standing together to win, and has contributed to the union's joining the national effort to address pay inequality, family and medical leave, and workplace violence against women. Long enjoys spending her free time with her grandchildren and in her garden in Laurel, MD.
Kim Kelly is a freelance writer and organizer born in rural South Jersey and currently based in Philadelphia. She is a labor columnist for Teen Vogue, and a columnist on class and labor at the Baffler. Previously, she was an editor at Noisey, VICE's former music & culture vertical, and a member-organizer of the VICE Union. Her writing on labor, class, politics, and culture have appeared in the Guardian, the Nation, Esquire, the Columbia Journalism Review, the New York Times, the Washington Post, and many others, and is a councilperson for the Writers Guild of America, East. She is currently working on her first book, FIGHT LIKE HELL, for One Signal/Simon & Schuster.
Rebecca Kolins Givan is an associate professor of Labor Studies and Employment Relations in the School of Management and Labor Relations at Rutgers, the State University of New Jersey. She has published widely on employment relations in health care, comparative welfare states and labor studies in journals such as Social Forces, ILR Review, and British Journal of Industrial Relations. Her recent books include The Challenge to Change: Reforming Health Care on the Front Line in the United States and the United Kingdom (2016, Cornell University Press) and Striking for the Common Good, with Amy Schrager Lang (2020, University of Michigan Press).
Jeremy Brecher is an historian and the author of ten books on labor and social movements, including Strike!, Brass Valley, History from Below, Building Bridges, Global Visions, Global Village or Global Pillage, Globalization from Below, and the just-released Common Preservation: In a Time of Mutual Destruction. Brecher's first book, Strike!, was described by the Washington Post as "Splendid . . . Clearly the best single-volume summary yet published of American general strikes" and was listed as a "Noteworthy Title" by The New York Times Book Review. Brecher was Humanities Scholar-in-Residence at Connecticut Public Television and Radio and received five regional Emmy Awards for his documentary film work. He also helped found and currently works with the Labor Network for Sustainability.
Javier Morillo became a fellow with the Center for Innovation in Worker Organization after stepping down from his role as president of SEIU Local 26 in Minnesota. Under Javier's leadership, Local 26 earned a national reputation as a creative and risk-taking force for raising standards for low wage workers, especially immigrants and people of color. Javier contributes to CIWO's mission of reimagining worker organization by contributing to the development of the Bargaining for the Common Good program.
Todd E. Vachon is faculty coordinator of the Labor Education Action Research Network (LEARN) at Rutgers University. LEARN provides educational opportunities, trainings, and public programming for workers and their organizations in pursuit of the common good. Todd's research and teaching interests include labor, social movements, sustainability, social stratification, and employment relations. Todd is a former union carpenter and public-school teacher who served as the first President of the UConn GEU-UAW Local 6950. He currently serves on the executive council of Rutgers AAUP-AFT.