Strike! 50th Anniversary Edition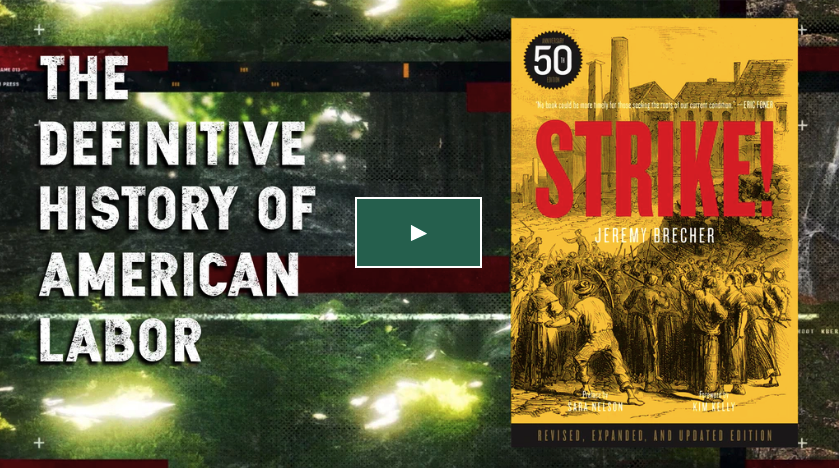 "Jeremy Brecher's Strike! is one of the most important books on labor history published since World War II. It is a much-needed history of recent labor struggles. But what makes it indispensable is its point of view, its spirit, which is that of rank-and-file resistance to both corporate power and trade union bureaucracy. Its emphasis on worker-community solidarity, across all boundaries, is exactly what is needed in our time."
—Howard Zinn, A People's History of the United States
Celebrate people's history by helping PM Press publish the updated, expanded, and definitive history of the American labor movement. Order a hard copy of Strike! 50th Anniversary Edition.
Jeremy Brecher's Strike! narrates the dramatic story of repeated, massive, and sometimes violent revolts by ordinary working people in America. Involving nationwide general strikes, the seizure of vast industrial establishments, nonviolent direct action on a massive scale, and armed battles with artillery and tanks, this exciting hidden history is told from the point of view of the rank-and-file workers who lived it. Encompassing the repeated repression of workers' rebellions by company-sponsored violence, local police, state militias, and the U.S. Army and National Guard, it reveals a dimension of American history rarely found in the usual high school or college history course.
Since its original publication in 1972, no book has done as much as Strike! to bring U.S. labor history to a wide audience. Now this fiftieth anniversary edition brings the story up to date with chapters covering the "mini-revolts of the twenty-first century," including Occupy Wall Street and the Fight for Fifteen. The new edition contains over a hundred pages of new materials and concludes by examining a wide range of current struggles, ranging from #BlackLivesMatter, to the great wave of teachers' strikes "for the soul of public education," to the global "Student Strike for Climate" that may be harbingers of mass strikes to come.
About the Contributors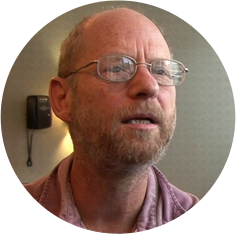 Jeremy Brecher

—

Author
Jeremy Brecher, also the Research and Policy Director for the Labor Network for Sustainability, has participated in movements for nuclear disarmament, civil rights, peace, international labor rights, global economic justice, accountability for war crimes, climate  protection, and many others. He is the author of fifteen books on labor and social movements, including the national best seller Strike!. He has received five regional Emmy awards for his documentary film work. He is currently policy and research director for the Labor Network for Sustainability. Find his work at JeremyBrecher.org.
Sara Nelson

—

Preface
Sara Nelson is International President of the Association of Flight Attendants–CWA, AFL-CIO. During the 2019 government shutdown, her call for a general strike helped showcase the power aviation employees can wield by withholding service and helped lead to the reopening of the government. Follow her at @FlyingWithSara.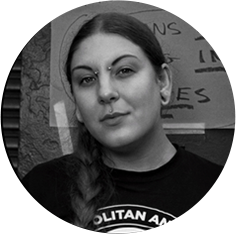 Kim Kelly

—

Foreword
Kim Kelly is the labor columnist for Teen Vogue. Her writings on labor, politics, and culture have appeared in the New York Times, the Washington Post, the Guardian, Pacific Standard, and many others. She is a proud member of the Writers Guild of America, East, and has been active in multiple organizing and contract campaigns since 2015. Follow her at @GrimKim.
Rave Reviews for Strike! 50th Anniversary Edition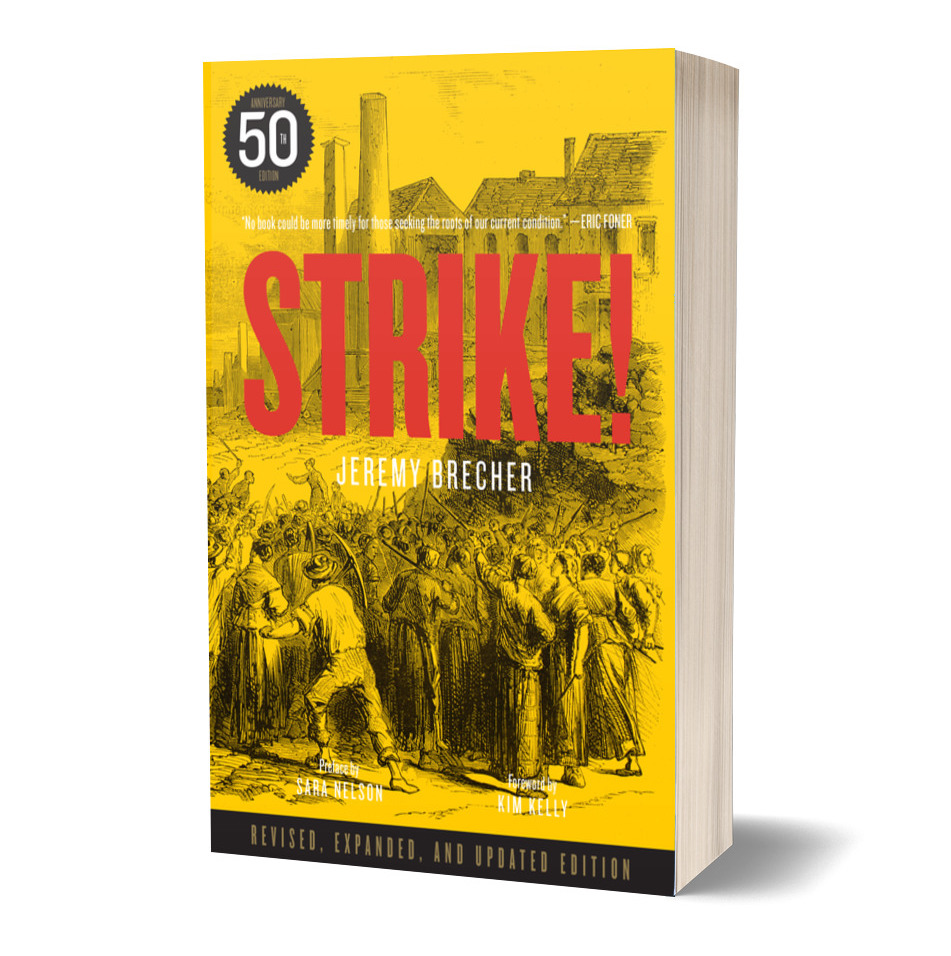 "Jeremy Brecher's Strike! is a classic of American historical writing. This new edition, bringing his account up to the present, comes amid rampant inequality and growing popular resistance. No book could be more timely for those seek- ing the roots of our current condition."
—Eric Foner, Pulitzer Prize winner and DeWitt Clinton Professor of History at Columbia University
"Magnificent—a vivid, muscular labor history, just updated and rereleased by PM Press, which should be at the side of anyone who wants to understand the deep structure of force and counterforce in America."
—JoAnn Wypijewski, author of Killing Trayvons: An Anthology of American Violence
"With this new edition of Strike! Jeremy Brecher has brought the story of U.S. labor up to date. From the Great Upheaval of 1877 to the Teamsters' UPS strike of 1997, here is the story of mass working-class action and organization. For a new generation that is once again discovering the power of organized workers and a class-based social movement, Brecher presents an important and critical perspective on the labor movement and U.S. history. For anyone who wants to get behind the headlines on the 'resurgence of U.S. labor,' Strike! is essential reading."
—Elaine Bernard, executive director, Harvard University Trade Union Program
"For the past twenty-five years, anyone getting turned on to American labor history has turned first to Strike! This new anniversary edition, which adds an in-depth examination of recent events and experiences, guarantees that this book will be the first source consulted by the next generation of workers and students who seek out the 'hidden history' of the American working class."
—Peter Rachleff, author of Hard-Pressed in the Heartland: The Hormel Strike and the Future of the Labor Movement
"Strike! manifests the real roots of workers' struggle—battles that moved from the streets of Minneapolis in 1934, to the mass confrontations of the 1960s against the Vietnam War, poverty, and racism, to the war zone of the 1990s in Decatur, Illinois. Jeremy Brecher's underlying message is powerful: workers will be exploited and reviled unless we challenge those who appoint themselves as our masters."
—Dan Lane, activist and locked-out Staley worker
"Splendid . . . clearly the best single-volume summary yet published of Ameri- can general strikes."
—Washington Post
"Strike! is the single most important book about the history of the American labor movement published in our time. And now Jeremy Brecher has brought the history up to date—just in time to make a new generation ready for this new era of labor struggle."
—Dick Flacks, University of California, Santa Barbara
"Jeremy Brecher's Strike!, a labor and left-wing classic, has educated tens of thousands of readers over the decades and now comes back again—better than ever."
—Paul Buhle, author of Marxism in the United States: Remapping the History of the American Left
"When Strike! first appeared in 1972, it provided a healthy antidote to narcotic of standard labor history. Rather than merely being the victims or at times allegedly the beneficiaries of government or corporate largess, workers, as Brecher shows in exciting, exhilarating strokes, not only have the power to change the world for the betterment of all humanity, but at their best moments, are capable of doing so in democratic, participatory fashion."
—Michael Goldfield, author of The Color of Politics: Race and the Mainsprings of American Politics
"Jeremy Brecher views the past quarter-century as a time of retrenchment and disorganization between periods of mass strikes. In a new last chapter, he tells the stories of Pittston, Staley, and other prefigurative struggles. This chapter will serve future historians as a definitive introduction to the emerging era of wider solidarity and more militant tactics."
—Staughton Lynd, coauthor of Labor Law for the Rank & Filer: Building Solidarity While Staying Clear of the Law and Wobblies and Zapatistas: Conversations on Anarchism, Marxism and Radical History
"Brecher, a gifted young radical historian . . . offers a graphic history of in- dustrial strikes. . . . His research is thorough, his presentation lucid and often absorbing . . . draws its strength from a coherent view."
—Publishers Weekly
"An exciting history of American labor."
—New York Times Book Review New and Recommended list
"An objective, minimally tendentious study of the American experience . . . a bracing draft of history . . . brings to life the flashpoints of labor history."
—Richard Lingeman, New York Times
"A magnificent book. I hope it will take its place as the standard history of American labor."
—Staughton Lynd, labor historian
"The best book I have seen on American labor as a social movement. An im- portant contribution to sociology as well as history. By focusing on mass ac- tions of workers, Brecher sheds new light on the role of trade unions and radi- cal organizations in the labor movement. Well-written, well-researched, and well-argued. I highly recommend it as a text for courses on social movements, political sociology, and American society."
—William Kornhauser, University of California, Berkeley
"An excellent and exciting book."
—Fusion
"A really impressive piece of work which deserves the widest possible circula- tion. It offers simultaneously a readable and largely accurate account of many of the major strikes of American workers since 1877 [and] an extremely useful and well-researched account of today's rank and file struggles."
—David Montgomery, author of The Fall of the House of Labor: The Workplace, the State, and American Labor Activism, 1865–1925
"Scholarly, genuinely stirring."
—New York Times Book Review