Time to get organizing! Sign up for workshops to help you get started.
With 63 days to Earth Day, now is the time to plan to get your local labor community organized for the Climate Strikes or a day of action. This may look like passing resolutions, educational events, union member climate surveys, mobilization to mass actions, or even disruption of business as usual.
---
First Earth Day Labor Table
What
First Earth Day Labor Table:
"National Union Plans"
When
Wednesday, March 4
8 p.m. Eastern / 7 p.m. Central / 6 p.m. Mountain / 5 p.m. Pacific
Who
The first labor table will kick off with Earth Day plans from:
American Federation of Teachers (AFT)
Service Employees International Union (SEIU)
American Postal Workers Union (APWU)
United Electrical, Radio and Machine Workers of America (UE)
What to Expect
The labor tables are designed to support local labor engagement campaigns and coordinate national labor engagement for this historic climate mobilization. Join this coalition of unions calling for actions from Earth Day to May Day, focusing on the deep connections between climate justice and worker justice.
---
Mark your calendars
For bi-weekly Climate Strike Labor Table Calls, Wednesdays at 8pm ET/ 7pmCT /6pm MT/ 5pm PT
March 4: National Unions Plans
March 18: Local labor community plans from cities across the country

April 1:

 Social Media Training and National Coordination
April 15: One Week to Go: Final Push!
In addition:
On March 4, StrikeWithUs.org will go live with the map of the events.  Check out their Earth Day Strikes – ONE PAGER to learn more.
The Climate Survey is one great tool we're excited to share. During the Virtual Convergence of February 12, Michael Eisencher of Labor Rise discussed how this tool is a critical part of their organizing plan to reach out to unions that haven't previously been involved. Here are links to the survey and an overview of the project: Alameda Labor Council Environmental Justice Caucus Climate Survey Overview.
The Labor Network for Sustainability aims to support the local organizing everyone is doing, and for all of us to coordinate climate strike labor engagement on the national level — learning from each other and sharing tools.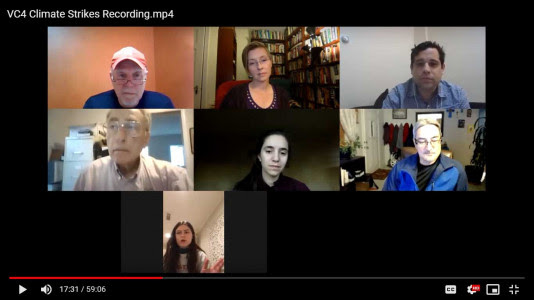 During the Feb. 12 VC, we also lit a spark for labor to step up and be part of the Earth Day Climate Strikes. Thank you to the amazing panel for inspiring us with the great work you're already doing:
 Zoë Cina-Sklar, Partnerships Coordinator,Sunrise
Margo Danahy, Partnerships Lead for the Boston Climate Strike and a member of the Partnerships team for Sunrise Boston Chapter
Roberto Clack, Associate Director, Warehouse Workers for Justice, Chicago
Michael Eisencher, Labor Rise for Climate, Jobs, Justice and Peace, Delegate to Alameda Labor Council,Climate and EJ Caucus, Bay Area
The panelists discussed their own work seizing the strikes are an organizing opportunity, connecting worker issues and climate issues and even connecting Earth Day to May Day with a 10 days of action.  From the Sunrise Movement, Zoe and Margo raised how critical it is for youth and labor to work together.
If you missed LNS's Virtual Convergence 4: Labor and the Earth Day Climate Strikes, check out the call recording.
REGISTER FOR WORKSHOP 2
Let's keep the conversations going! Save the date for LNS's next Virtual Convergence on Just Transition: Wednesday, March 11th at 8pm ET/ 7pmCT /6pm MT/ 5pm PT.

Want to help move the Labor-Climate movement forward?
$5 today can help you to do just that! Join LNS now »