Martha Hawthorne, a chair of the SEIU 1021 Climate Justice Work group and part of the planning team for the upcoming LNS National Labor Convergence on Climate, writes us from the Bay Area:
At the close of 2018, the SEIU 1021 Executive Board voted to support the framework of the Green New Deal, making this union local the 3rd in the country to sign on to the plan popularized by Alexandria Ocasio Cortez. SEIU 1021 joined UAW local 4121 and SEIU 32BJ, boldly stepping up in unity with 45 members of Congress and over 250 organizations, including Labor Network for Sustainability, to call for the creation of a Select Committee in the House of Representatives to address the Climate Crisis with the scope and speed require by science.
As new electees were sworn into the now Democratic controlled House of Representatives, Majority leader Nancy Pelosi responded to pressure by establishing a climate committee which may represent a step forward, but falls far short of demands by the Sunrise Movement and other organizations advocating for a Green New Deal.

The 12 years scientists give us to transition to a renewable energy economy is going fast! We cannot abandon our demand for a Green New Deal, or leave the plan to a Congressional committee that has no power to subpeona witnesses or propose legislation, no mandate to bar representatives who accept campaign $ from fossil fuel interests, and no language about Just Transition for workers or frontline communities.
Labor must seize the moment to support a Green New Deal which has so captured the hope and vision we need to save our communities, our jobs and our species. We must help advocates of GND develop proposals for a Just Transition that provides union-scale jobs with benefits and right to collective bargaining, and funds a vibrant public sector in a renewable peacetime economy.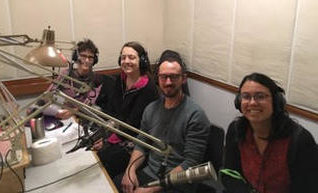 Hear Martha Hawthorne speak about labor support for GND on KPFA radio. 
The radio panel included:
Isaac Silk, Sunrise Movement
Megan Zapanta, Asian Pacific Environmental Network
And Jim Miller of AFT Local 1931/CFT writes:
In San Diego, the Environmental Caucus of the San Diego-Imperial Counties Labor Council is currently working on a resolution endorsing the Green New Deal that it will be taking to the whole Labor Council early in 2019.  Our hope is to enter the conversation and perhaps provide some input with regard to the kind of labor provisions that should be included in any legislation.  Also, in early 2019, the California Federation of Teachers Labor and Climate Justice in the Schools Committee will be crafting a similar resolution to bring to the CFT's 2019 statewide convention.  Both of these efforts are aimed at amplifying the message of the need for a Green New Deal for both union members and the general public.
The idea of a Green New Deal has rapidly and unexpectedly broken through into public discussion. Here's how unions can build on this momentum right now:
Support the Sunrise Movement's Green New Deal actions: Show up for demonstrations at your Congressional representative's office to demand they support a Green New Deal.
Ask politicians who depend on labor support to sign on to Congressional resolutions calling for a Green New Deal
Educate your membership about the Green New Deal: Materials are available at the Labor Network for Sustainability website.
Pass a resolution demanding a Green New Deal: The organization Labor for Single Payer first passed resolutions through hundreds of local unions, then dozens of national unions, and ultimately turned the labor movement into a powerful advocate for universal healthcare. The labor movement's support for a Green New Deal can send a strong message that the plan is critical to building working-class power.
Push for elements of the Green New Deal in your collective bargaining demands: "Bargaining for the common good" is a growing trend for American unions. Many aspects of the Green New Deal can be won through union bargaining. For example, unions can bargain for their employers to rapidly reduce greenhouse gas emissions and to apply prevailing wage standards to their own workers or outside contractors who perform the necessary work.
Join together with other unions and allies to demand a Green New Deal: Coalitions that advocate for protection for both workers and the climate have emerged at the local, state and national levels. You can join with them to form a powerful force to ultimately win a strong and bold Green New Deal.