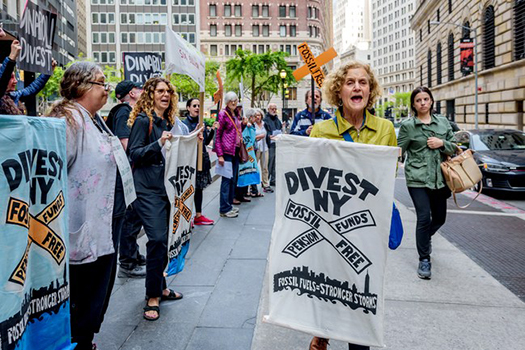 Pictured above: LNS Divest-Invest Committee Coordinator Nancy Romer. Originally published in the September 14, 2018 edition of The New Yorker. Taken by Erik Mcgregor / Pacific Press / ZUMA
The Labor Network for Sustainability, Democratic Socialists of America and 350.org invite union members, labor organizers and divestment campaigners to a city and state divestment webinar on Dec 10 at 8pm ET. Please join us and circulate widely. Facebook event and advertising graphics coming later this week. https://actionnetwork.org/forms/pensiondivestmentwebinar
Join labor organizers, union members and campaigners at 8:00 PM, ET / 5:00 PM PT on Monday, Dec 10 in discussing the future of state and city divestment campaigns and the rationale and arguments for moving investments out of fossil fuels and into climate solutions.
What: The Financial and Scientific Urgency for City and State Divestment: A Webinar
When: 8:00 PM Eastern Time / 5:00 PM Pacific Time Monday, Dec 10
Where: RSVP and you will receive a Zoom link via email a few days before the webinar
The Intergovernmental Panel on Climate Change recently reported that the global community has just 12 years to limit global warming to under 1.5 degrees, beyond which climate disasters will be magnified. Governments everywhere need to rapidly reduce fossil fuel use — and it's up to all of us to apply the pressure necessary for cities, states and nations to take action.
Join us to learn more about how to advance divestment for your city and state pension and union funds. RSVP Now.