Monday, February 4, 2019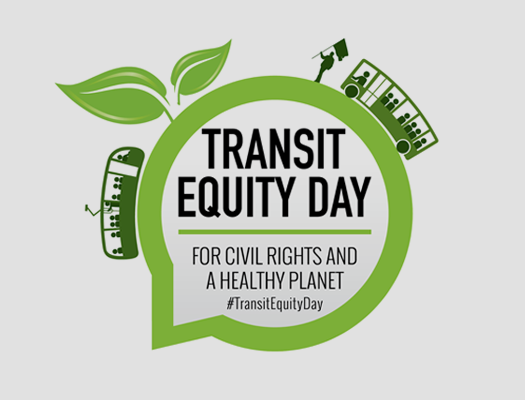 Last year, people took action in dozens of cities across the U.S. demanding that our local, state and federal governments make public transit accessible and affordable to all, create good jobs by expanding our public transit systems, and protect our health and climate by using renewable energy to power our buses and trains.
Join us again on February 4, 2019 for the Second Transit Equity Day
We choose February 4 as Transit Equity Day to honor Rosa Parks on her birthday. Her act of resistance by refusing to give up her seat on the bus in 1955 was a catalyst for the civil rights movement. It affirmed that everyone has the right to equal access to public transit.
Also, join us for the SOCIAL MEDIA DAY LAUNCH on DECEMBER 21 to honor the successful end to the Montgomery Bus Boycott. Help us forward social media posts on that day. E-mail us to join our Post Speaker Blast– [email protected] – or stay tuned to this webpage for more info!

Actions You Can Take on Transit Equity Day
Click here for the Organizing Toolkit.
Download this Transit Equity Day poster, fill it out with a personal message, and take a photo to share via social media.
Get on Board for Transit Equity Day! Register your activity here (even if you don't know what it is yet).
Educate
Share these fact sheets from the American Transit Union on Why Transit Matters.
Convene an educational event about public transit as a civil right and as a key strategy to confront climate change.
Wear a button or sticker to your workplace showing support for public transit as a civil right.
Get an op-ed published in your local newspaper.
Agitate
Organize a direct action to support a local campaign for quality public transit for all.
Organize
Get your union local, organization city council, transportation board and others to pass a resolution supporting public transportation as a civil right.
Get your union to establish a climate action committee.
For More Information Contact
Sponsoring Organizations
Amalgamated Transit Union
Americans for Transit
Asian Pacific American Labor Alliance
Best Friends of Low Country Transit
Chainbreaker Collective, Santa Fe, NM
Chicago Jobs with Justice
The Connecticut Roundtable on Climate and Jobs
Downtown on the Go, Tacoma, WA
Georgia STAND-UP
Institute for Policy Studies, Washington, DC
Jobs to Move America
Labor Network for Sustainability
Labor Community Strategy Center, Los Angeles, CA
Music City Riders United/Workers' Dignity, Nashville, TN
National Association for the Advancement of Colored People
OPAL Environmental Justice Oregon, Portland, OR
Partnership for Working Families
Pittsburghers for Public Transit, Pittsburgh, PA
Railroad Workers United
San Francisco Taxi Workers Alliance, San Francisco, CA
Sierra Club
Sierra Club Minnesota Northstar Chapter
Together 4 Brothers, Albuquerque, NM
Transportation Choices Coalition, Seattle, WA
Urban Habitat
Sponsoring organizations contribute money, in-kind support to the national organizing effort or participate on the Planning Committee for Transit EquityDay.
Endorsing Organizations
Colorado Interfaith Power and Light
Grassroots Global Justice Alliance
Green for All
Greenpeace, USA
Jobs with Justice
Move LA
Oregon Environmental Council
Policy Link
The Leap