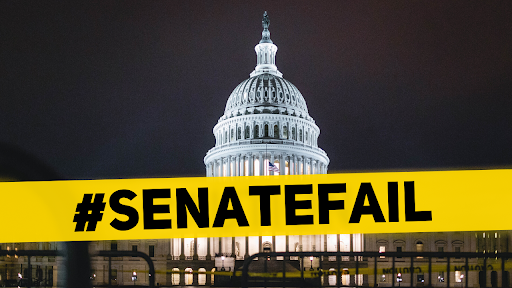 U.S. Senators are heading home for vacation. Meanwhile, every day over 50,000 Americans are diagnosed with Covid-19, thousands are hospitalized and too many are dying. While the clarion call of Black Lives Matter is clear in the streets across the country, Senators are choosing to do nothing as this pandemic ravages Black and brown communities. The inaction of the Senators is inexcusable.
Communities across the country will take action to hold their U.S. Senators accountable, presenting them with the grade they deserve: F. 
Teachers, students and parents are preparing report cards to deliver to their Senators in many states. In other states, community groups and frontline workers are preparing the list of Senate failures. Those in communities where no actions are being held can join the online storm via Twitter and Facebook, following #SenateFail.
Millions of workers–essential and unemployed–do not have the luxury of a vacation and our elected officials are not entitled to take one during this crisis. We will not allow them to ignore us!
Failures of the Senate
Senators are vacationing, after refusing to act on COVID relief or legislation that meets the demands for racial justice advanced by the Movement for Black Lives. Senators have failed us by not:
Providing nurses, health care workers, transit workers, food service workers, domestic workers and other essential workers with the personal protective equipment they need to do their jobs safely and to protect us in the process
Supporting essential workers with hazard pay and paid medical leave in line with the risks they are taking to provide health care and essential services
Enacting emergency OSHA standards to ensure workplace safety
Guaranteeing that every person in America gets unemployment insurance benefits, direct cash payments, SNAP, rental assistance and other support to survive the economic crisis
Investing in states, tribes and local governments in desperate need of funding for schools and essential services like health, housing and food assistance
Funding public education so teachers, students and parents can safely return to school and work
Ensuring the health and economic well-being of all Black and Brown people living in America, who have been disproportionately hurt and killed by the virus
Protecting public health by funding increased Covid-19 testing and contact tracing
Providing funding for a functioning postal service
Providing funding to ensure that every vote will count in November
Passing legislation in line with the Movement for Black Lives demands to reinvest in a shared vision of community safety, infrastructure, and recovery that does not rely on the police
See the List of Actions
The #SenateFail Day of Action is a Collaborative Effort of:
American Federation of Teachers
Service Employees International Union
American Postal Workers Union
Association of Flight Attendants – CWA
United Electrical Radio and Machine Workers of America
Labor Network for Sustainability
Greenpeace USA
Sunrise Movement
Friends of the Earth
Sierra Club
Oil Change International
Center for Biological Diversity Action Fund
North Carolina Roundtable on Jobs and Climate
A. Philip Randolph Institute
Center for Community Change
Colorado AFL-CIO
Center for Popular Democracy
Tuesdays with Toomey
CASA
Indivisible Groups, PA District 10
The Climate Center
National Children's Campaign
Earth Action, Inc.
Progressive Democrats of America
Sunrise Movement in Ohio
Fayetteville PACT
Sierra Club – Grand Canyon (Arizona) Chapter
For Our Future PA
AZ AFL-CIO
Cincinnati AFL-CIO Labor Council
MSEA-SEIU,
International Association of Fire Fighters – Maine
350Maine.org
IAM S6 (International Association of Machinists)
Maine AFL-CIO
If you are involved with an action you want us to know and talk about, please sign up here.
See the List of Actions