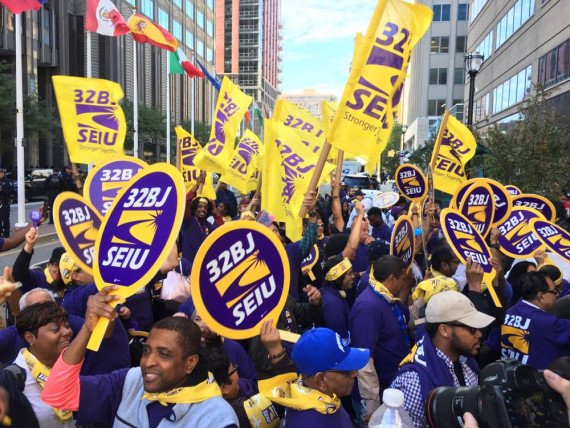 Hector Figueroa, president of 32BJ SEIU, the largest property service union in the country, issued the following statement:
As a union representing 163,000 doormen, security officers, cleaners and airport workers up and down the east coast, we support the Green New Deal, which was officially introduced today by New York Representative Alexandria Ocasio-Cortez and Massachusetts Senator Ed Markey. For the first time, our elected officials recognize that our climate and economic crises are intertwined and can only be solved with bold and effective government action. We reside in coastal cities that have been flooded by storms like Hurricanes Sandy and Maria, so we know this kind of ambitious, large scale vision to reduce greenhouse gasses and switch to renewable energies is both doable and indispensable. 

For labor unions like ours, climate change is an environmental issue, an economic opportunity and a political challenge that we know can destabilize our communities. This is an opportunity to tackle economic inequality and re-industrialize America with a green economy through jobs that, with the right training, can provide career ladders for many low-wage workers who struggle to afford the high cost of living. At 32BJ, we have pioneered Green Buildings Programs that serve as large scale examples that investing in long-term training and education for current workers can help them become leaders in this kind of bold vision to reduce greenhouse gasses, switch to renewable energies, and create good jobs. 

As our country weighs the viability of the Green New Deal, we urge elected officials, labor unions, environmental groups and community organizations to support and grow its vision and to be smart, compassionate and bold.