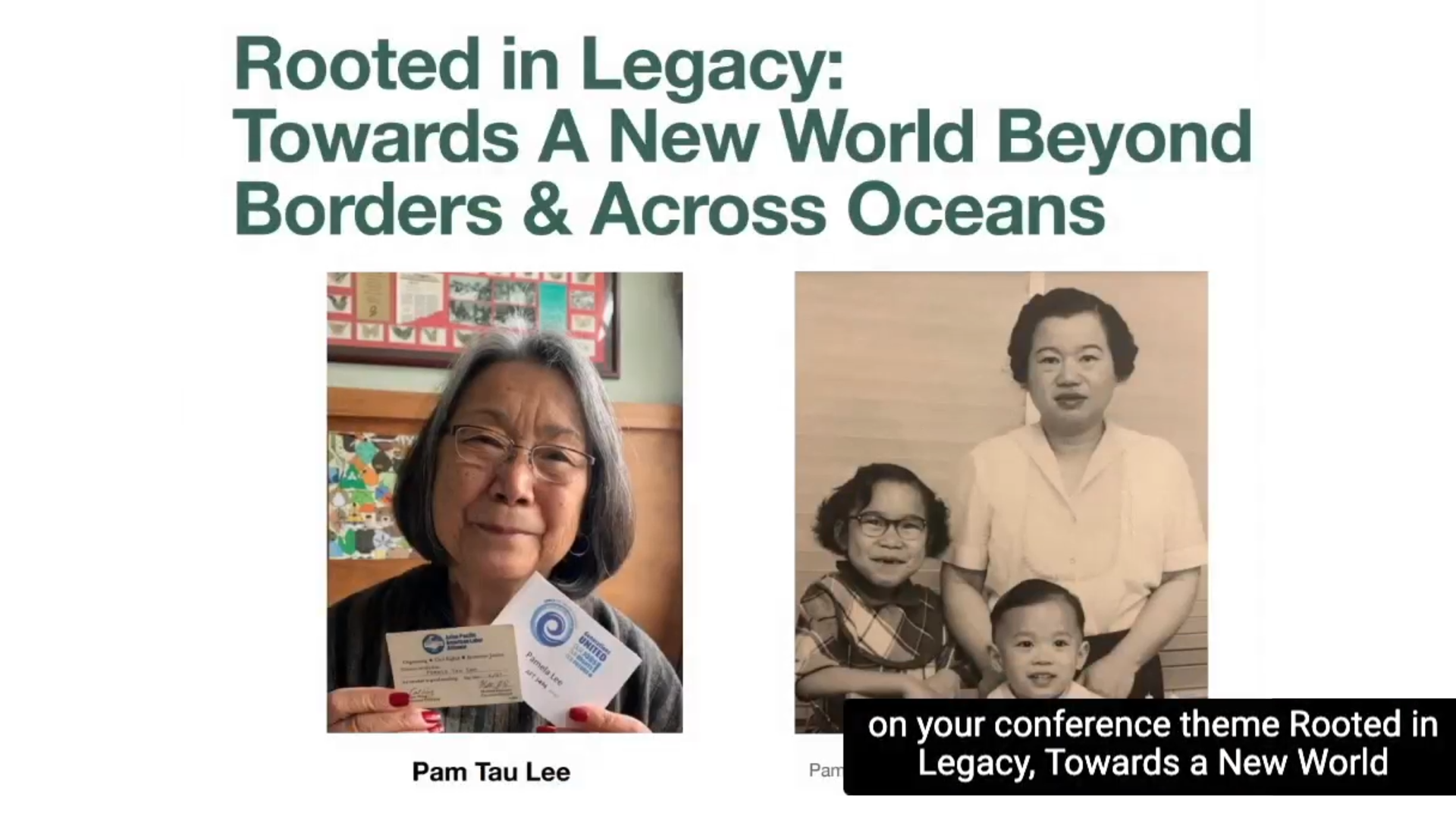 By Judy Asman
As with many organizers drawn to work with the Asian Pacific American Labor Alliance (APALA), Pamela Tau Lee saw first-hand the workplace cruelties and injustices of her ancestors and throughout the Asian American Pacific Islander (AAPI) communities when she was a young girl. Founder of the Chinese Pacific Association and the Asian Pacific Environmental Network (APEN), Tau Lee recently shared her experience at APALA's 16th Convention themed, "Rooted in Legacy: Towards a New World Beyond Borders & Across Oceans," of which she was the opening keynote.
Reminiscing over her early years, Tau Lee shared stories of her grandmother working as a garment worker in a Levi Strauss jeans factory. She remembers her grandmother's work station, the "denim dust" that was always on her clothing and in her hair, and "women crying." One such woman, Tau Lee recalled, was bleeding from an injury on the job while the other women comforted her. She also remembers the boss screaming to everyone to get back to work. Her grandmother would later describe this boss as "mean, greedy and too much soy sauce!" The latter, an expression that would denote "something was not right."
Later in college, while fighting for Asian American studies, Tau Lee found herself exploring and studying the "super exploitation" of workers by multinational corporations "who reap super profits by enlisting subcontractors to operate sweatshops" in Asian communities and foster neocolonialism in "our homelands"–she called this a "grounding experience" that drew her to APALA.
But Tau Lee was not only drawn to APALA as an advocate for exploited workers, but also as someone with a strong commitment to the environment and its meaning and impact in AAPI communities. During her keynote, she talked about the 16th Convention as a pivotal moment where "globally, humanity can thrive and be in balance with Mother Earth."
Tau Lee, said:
"At your 2019 Convention, APALA passed a resolution in support of the Green New Deal and most recently the Principles of Liberation. You also call for a just transition that prioritizes Indigenous sovereignty–oh this is so powerful."
Tau Lee believes APALA is an environmental justice organization, recounting that in 1991, "three hundred delegates assembled in Washington, D.C. for the first people of color environmental leadership summit" where she was one of 30 Asian Pacific Islander delegates.
She said: "This summit rocked the mainstream environmental movement by redefining environment to include where we live, work, go to school and play and crafted the 17 Principles of Environmental Justice."
Thirty years later, at the recent convention, held virtually to more than (number) attendees, Tau Lee emphasized APALA's prior calls for a just transition, proposing an APALA model.
"I feel APALA is posed to make a major leadership role on climate change by crafting an Asian American, Native Hawaiian, Pacific Islander perspective for a national just transition. An APALA vision-led set of principles and practices that address a needed shift from an extractive economy to a regenerative economy for all. A just transition that draws on a rich legacy of sustainable traditional and cultural practices. A just transition that is place-based to include our communities–like Boston Chinatown."
Boston Chinatown, Tau Lee described, "is vulnerable to extreme heat and flooding with the highest level of particulate air pollution in the state. Most of Chinatown could be underground by 2050."  She summarized how the Chinese Progressive Association in that area is "planning for a community-owned energy microgrid to reduce emissions and bring electric power to those most impacted by environmental injustice" and emphasized the importance of a collective voice to ensure climate issues in these communities "are uplifted and addressed and that Green New Deal infrastructure projects provide good paying union opportunities for community residents."