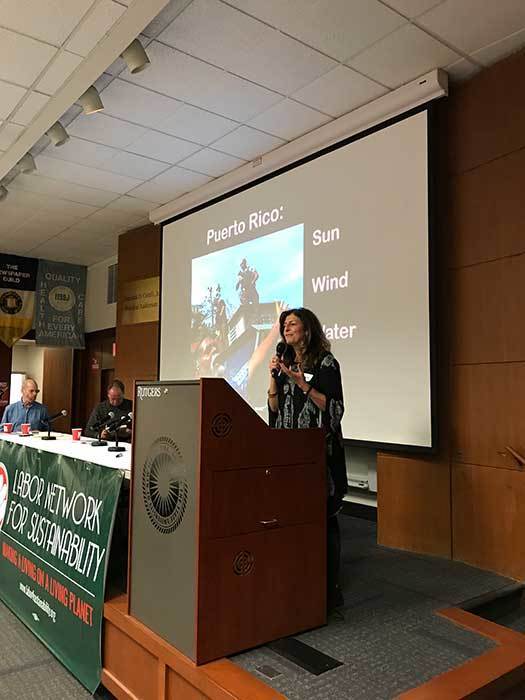 Pictured Above: Judy Sheridan Gonzalez, President, New York State Nurses Association, gives her remarks on Just Transition: Current Theories and Strategies.
by Todd Vachon, NE Convergence Steering Committee

On November 17, 2018 the Labor Network for Sustainability organized the Northeast Regional Labor Convergence on Climate Change. The convergence brought together over 90 labor leaders and allies from eight states across the northeast to discuss labor's role in the urgently needed transition to a just and sustainable economy that both protects the climate as well as the lives and livelihoods of workers and frontline communities that are threatened by climate catastrophe. Co-sponsored by the Labor Education Action Research Network and the Rutgers AAUP-AFT, the day-long intensive strategy session was convened at the Labor Education Center at Rutgers University in New Brunswick, New Jersey. Attendees included nurses, carpenters, electrical workers, teachers, communication workers, transportation workers, postal workers, food service workers, public employees, and service industry workers from over 20 different unions.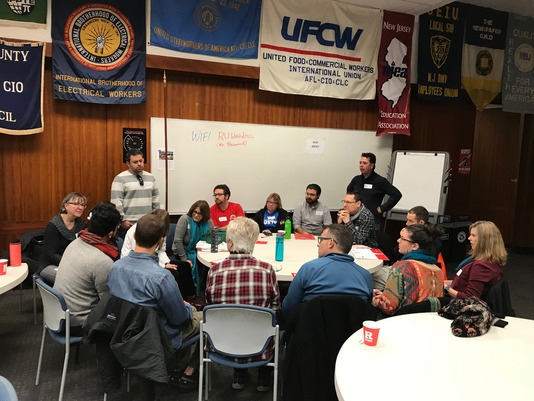 Pictured above: Geographic breakout sessions provided a forum for deeper discussions on how labor can engage union leaders and communities regarding transitioning to a climate safe economy.
The agenda for the day included an overview of the types of labor-climate campaigns that are underway in the northeast; a discussion about the need for a fair and just transition and what that might entail; and five workshops on important topics including: public ownership and control of the energy sector, carbon pricing, offshore wind, divest/invest campaigns, and current legislative proposals designed to mitigate the climate crisis. The day also included two sub-regional breakout sessions where attendees met with fellow labor-climate activists from their home states to share information, discuss opportunities for collaboration, and brainstorm ways that LNS can help those state and local-level campaigns flourish and win.

Pictured above: LNS Founding President Joe Uehlein gives opening remarks, stressing the urgency of acting now regarding labor and climate.
The Northeast Convergence was the second regional convergence organized by LNS this year and displayed the growing size and momentum of the labor-climate movement. The third national convergence will be held on June 28-30, 2019 in Chicago, IL. The purpose of the convergences is to encourage climate protection advocates to organize locally and nationally in their own unions; advocate for climate solidarity with workers around the world; build cooperation among climate protection advocates and caucuses in different unions; educate labor's leadership and rank and file on the realities of climate change; transform the discourse and ultimately the policy of the labor movement; and inspire local labor unions and activists to engage with climate and climate justice organizations and activists in their own communities.
The latest IPCC Report and the U.S. Government's own Fourth Climate Assessment released in November paint a bleak picture for the Earth and its inhabitants. The task ahead is enormous, but the struggle is more than worthy. Just ask yourself, what is more important than saving humanity? Alone, we feel powerless to affect the change that is needed to create a just and sustainable economy that works for all. But when we work together, there is no greater force beneath the sun. Let's get back to work!