By Michael Eisenscher, SolidarityINFOService
More than 700 trade unionists and other labor activists joined an estimated crowd of 30,000 people in San Francisco on September 8, 2018 to Rise for Climate, Jobs & Justice. They came from more than fifty labor organizations, including three labor councils (San Francisco, Alameda and Contra Costa counties).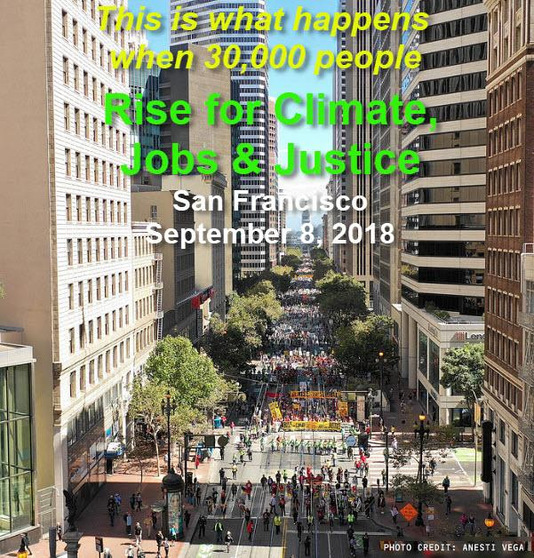 The Labor Contingent, led by the ILWU Local 10 Drill Team, included a fire engine honoring first responders driven by members of Firefighters Local 798, which also served as a speakers platform for a pre-march labor rally that included Lizzy Tapia from Local 2 HERE, and John Avalos from NUHW, with labor songs led by Susan Peña and Kathe Burick, AFT locals 1481 and 2121, chants led by SEIU and AFSME members, and a skit performed by members of La Colectiva de Mujeres. Norman Ten, President of San Francisco APALA (Asian Pacific American Labor Alliance) led a unity chant in 4 languages. The Brass Liberation Orchestra provided the marching band.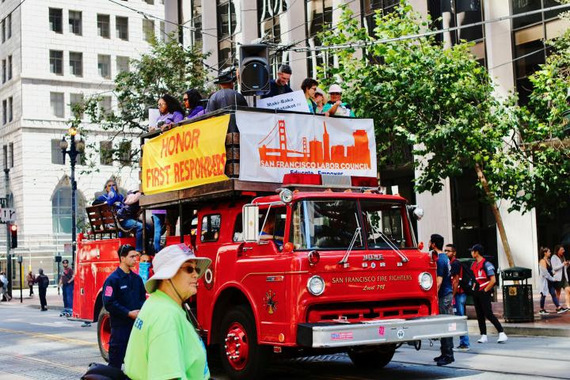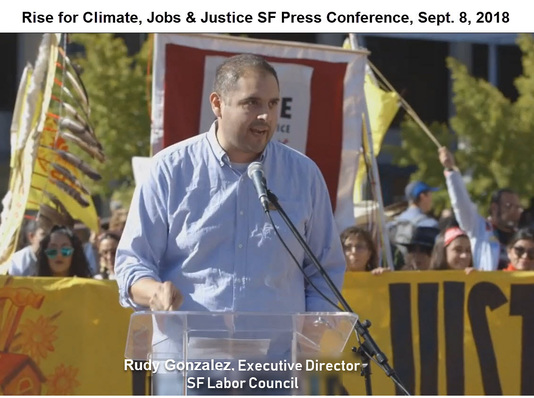 One highlight of the day was creation of the largest street mural ever painted in the streets surrounding SF Civic Center in front of City Hall. Teams of artists outlined the murals in advance. Painting was completed by volunteers from among the marchers as they arrived in Civic Center from the march up Market Street from Embarcadero Plaza. One of the murals was created by the Labor Contingent.