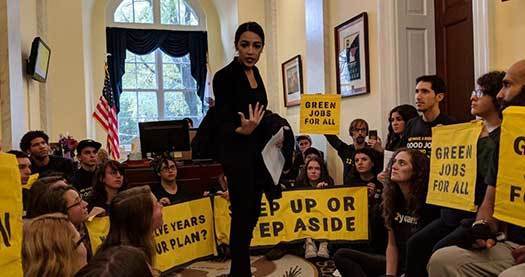 Photo: Sunrise Movement
It was an iconic moment: Young people occupy Rep. Nancy Pelosi's office demanding a Green New Deal to put millions of people to work making a climate-safe economy—when suddenly newly-elected Congressional representative and overnight media star Alexandria Ocasio-Cortez joins them with a resolution in hand laying out principles for a Green New Deal. The proposal has since amassed growing support among Congressional representatives, progressive organizations, and young people across the country. In this special issue of Making a Living on a Living Planet, we ask, What does the Green New Deal mean for labor?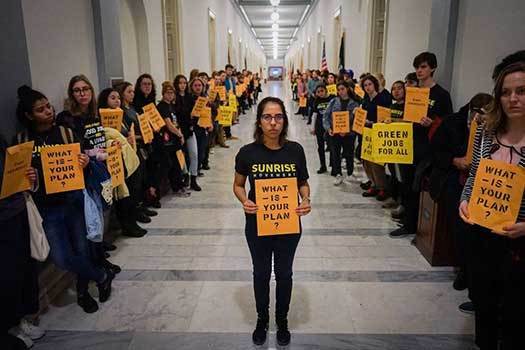 Pictured above: Sunrise posing a simple question to Nancy Pelosi.

Why Workers Need a Green New Deal
American workers, like most Americans, are dissatisfied with the status quo and want change. Organized labor is in a position to help lead that change. But all too rarely is labor's program directed to a vision of what we want for the future.
The Green New Deal provides a visionary program for labor and can provide a role for unions in defining and leading a new vision for America.
At the same time, the Green New Deal projects a program that is not far-fetched. It includes plans for a public works programs, the expansion of human rights and new entitlement programs. Americans have made such goals a reality before in U.S. history—with organized labor playing a leading role.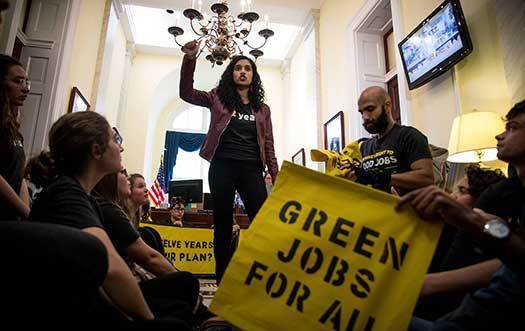 Photo: Sunrise Movement
What a Green New Deal Would Do
While there are a variety of detailed proposals for a Green New Deal, Alexandria Ocasio-Cortez's proposal promises to create millions of jobs through building a new 100%-renewable electrical system and a national "smart grid," retrofitting residential and industrial buildings, and building a new, low-emission transportation system.
It also seeks to end the epidemic of poverty by mitigating deeply entrenched racial, regional and gender-based inequalities in income and wealth and distributing federal aid and other investment equitably to historically impoverished and marginalized communities.
At its core, the Green New Deal would work toward saving the climate by meeting scientific targets for the reduction of greenhouse gases, investing in the drawdown and capture of greenhouse gases, and making "green" technology a major export of the United States to help other countries transition to carbon-neutral economies.
Why a Green New Deal?
Only protecting humanity from climate catastrophe can unify the political forces needed to meet labor's demands for jobs, union rights, economic security, full employment, and worker empowerment.
The Green New Deal is a program that all trade unionists and advocates for working people can and should get behind.